COTEP : AN INNOVATIVE TEAM WORKING ON DIGITAL TRANSFORMATION
Innovation in one of COTEP's core values to develop tomorrow's dynamic signage products. Digital and innovation are essential to the evolution of our customers' needs in the transportation sector (train stations, airports…) but also in education (schools, universities) or administrations ; our objective is to meet the challenges of digital transformation with ingenious and relevant dynamic signage solutions, thought of by our design office and our innovation division.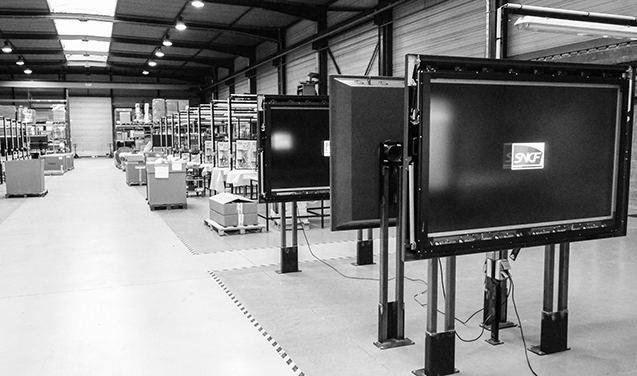 Digital transformation
We have started an important digital transformation to digitalise our production processes, from receiving the components to installing our products. We want to have a global coherence with the digital evolution of our products, our sales pitch and our products/services offers.
This digital transformation allows COTEP to:
work on its customers' new challenges by adapting to their own digital transformation
offer its customers innovative solutions to optimize their outdoor (bus station) or indoor (lobby or factory) display solutions
to meet growing challenges concerning the flexibility and agiliy of solutions gathering both hardware (dynamic monitors) and software (supervision and e-monitoring platform)
Industrial Iot
The Industrial Internet of Things (IIoT) is a major subject in ongoing developments at COTEP. For industry, education or transportation customers or internally for the optimisation of our production processes, the Industrial IoT is a key challenge that is at the center of our digital reflexion.